Alabama Business™
Established in 1930, each issue contains a free quarterly Alabama economic forecast update.
Economic Outlook Update:
➢ Alabama's economy declined by 29.6 percent in the second quarter of 2020, following a 3.2 percent drop in the first quarter. For the year, the state's economy is estimated to drop by 3.4 percent.
➢ The State gained 22,200 jobs in August over the previous month, bringing the total net loss of jobs to 86,800 from August 2019, while the seasonally adjusted unemployment rate dropped from 7.9 percent in July to 5.6 percent in August. The state's unemployment rate was 2.8 percent in August 2019.
➢ The seasonally adjusted number of unemployed workers, based on a household survey, declined from 176,556 in July to 127,186 in August. A year ago, in August 2019, the number of unemployed people totaled 62,149.
➢ Total nonfarm employment is forecast to drop by about 3.0 percent in 2020, with most of the job losses in manufacturing; professional and business services; leisure and hospitality; and other services providing sectors that cater specifically to consumers and business related expenditures. Some manufacturing industries will also continue to experience a net loss in jobs, particularly industries that are export-oriented and rely on inputs from abroad.
➢ Overall, the state's economy is forecast to drop by approximately 3.4 percent in 2020, significantly below the 2.4 percent rate of growth seen in 2019 and 2.8 percent in 2018.
➢ After increasing by 5.9 percent in fiscal year 2018-2019, state tax revenues will increase by 4.0 to 5.0 percent in FY2020.
Quarterly Report
---
First Quarter 2020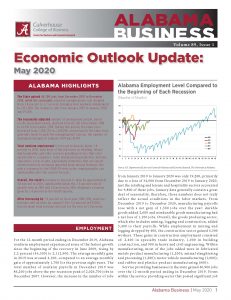 Second Quarter 2020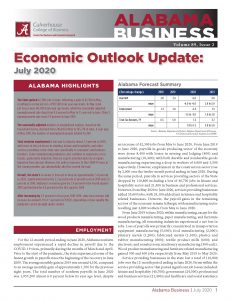 Third Quarter 2020