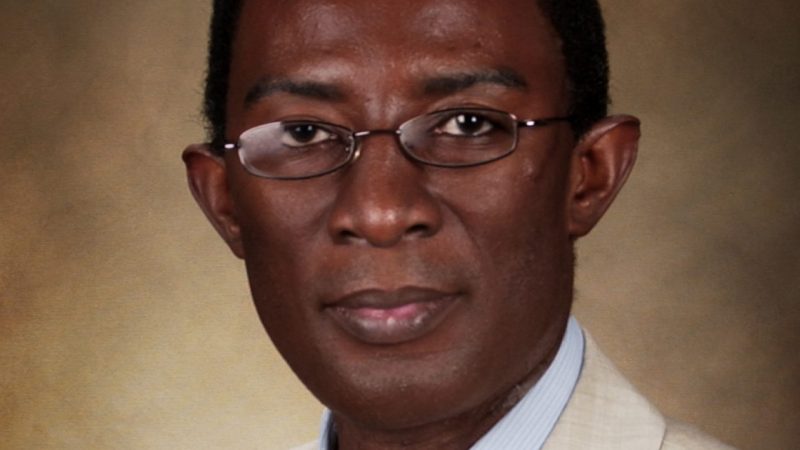 Culverhouse Associate Dean Appointed to Branch of Atlanta Federal Board
Dr. Samuel Addy, associate dean for economic development outreach in the Culverhouse College of Business and senior research economist for the Center for Business and Economic Research, was appointed to fill out the remaining year of term on the board of directors of the Birmingham Branch of the Federal Reserve Bank of Atlanta.
"A key focus of our outreach efforts within the Culverhouse College of Business are those that make a positive impact on society and the greater community, and many of those efforts are led by Dr. Addy," said Culverhouse Dean Kay Palan. "Dr. Addy's appointment to the board is reflective of the important work he does here, and I look forward to the results of his contributions."
Going forward, Addy will be eligible for two, three-year appointments on the seven-member Birmingham board.
"This is a win-win situation for the College of Culverhouse and UA," Addy said. "This role will allow the opportunity to enhance and expand the positive impact our economic outreach at UA has on the state and beyond."
The Federal Reserve System is overseen by a national Board of Governors who work with the 12 Federal Reserve Banks across the country that have a board of directors, and most have branch banks with individual boards of directors.
Directors provide a link between the system and the public, and their insights help to inform national monetary policy. In addition, directors perform an important corporate governance function for their respective reserve banks. They are expected to contribute to the Fed's understanding of the economic conditions of their district and the effect of those conditions on the economy. Directors should be familiar with the economic and business community of their region.
Addy has worked with the Atlanta Fed and its Birmingham branch over the years, providing economic data and forecasting as well as information on workforce and business surveys from CBER.
The Atlanta bank's focus on rural economic development within the six Southeastern states in its district will be an area Addy hopes to learn from and contribute to by relying on UA's deep ties to the area.
"The breadth of what we do here at UA regarding economic development, particularly in rural areas, is highly visible, and I believe that is a big reason why I was appointed," he said.
Addy has served in his current roles since 2015, but was previously associate dean for research and outreach from 2011 through 2015, the executive director of the Center for Business and Economic Research from 2007 to 2015, and has held various other leadership roles at the university since 1998.
He is a member of the Alabama Economics Club, University Conflict of Interest Committee at the University of Alabama, International Association for Energy Economists and the American Economic Association.
He earned his doctorate in mineral economics from Pennsylvania State University, his master's degree in mineral engineering from the University of Minnesota, and a bachelor's degree in metallurgical engineering from the University of Science and Technology in Kumasi, Ghana.
Contact
Adam Jones, UA strategic communications, 205-348-4328, adam.jones@ua.edu
The University of Alabama, part of The University of Alabama System, is the state's flagship university. UA shapes a better world through its teaching, research and service. With a global reputation for excellence, UA provides an inclusive, forward-thinking environment and nearly 200 degree programs on a beautiful, student-centered campus. A leader in cutting-edge research, UA advances discovery, creative inquiry and knowledge through more than 30 research centers. As the state's largest higher education institution, UA drives economic growth in Alabama and beyond.