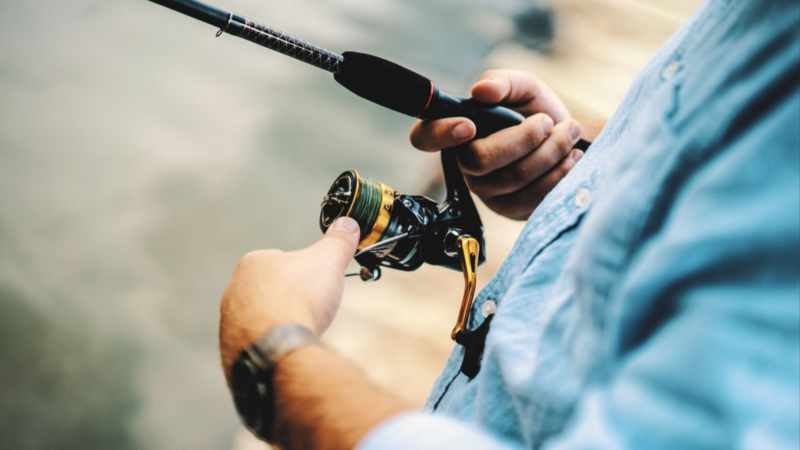 Gone Fishing
Gone Fishing
---
Hunting and fishing are part of the culture of Alabama and they also have a sizeable impact on the economy. In 1996 hunters and fishermen in Alabama spent almost $1.45 billion on equipment and trip-related expenditures, compared to only $724 million in 1991. While the total number of persons hunting and fishing in Alabama increased from 1.27 million to 1.33 million, only 4.9 percent, their expenditures increased 91 percent. This can be partly attributed to a healthy economy in the second part of the decade, following several years that were not as robust. Trip-related hunting and fishing expenditures grew 30 percent, while equipment expenditures grew 90 percent. The largest change occurred in the purchases of special equipment such as campers and boats, which showed an increase of 215 percent between 1991 and 1996.
Fishing.  In 1996 fishermen in Alabama spent $835 million on their favorite pastime. Of this total, $363 million was for trip-related expenditures, $426 million for equipment, and $46 million for other items. This "other items" category includes magazine subscriptions, membership dues, land leasing expenses, licenses, stamps, tags, and permits.
Hunting.  In 1996 Alabama hunters spent $610 million. Of this total, trip-related expenditures accounted for $127 million. Trip-related expenditures include food, lodging, transportation, guide fees, land use fees, and equipment rental. Equipment expenditures, which include guns, telescopic sights, ammunition, binoculars, and hunting clothing, were $390 million. Expenditures for other items, such as magazines, books, membership dues, and land leasing expenses, totaled $94 million.
Out-of-state Hunters and Fishermen.  Hunting and fishing also draw a significant number of out-of-state participants. In 1996, 323,000 nonresident anglers enjoyed Alabama waters, accounting for 33 percent of all fishermen. These nonresidents spent 1.99 million days fishing in Alabama, or just over six days per angler. Of these out-of-state fishermen, 219,000 were freshwater anglers, with the remaining 104,000 being strictly saltwater, or both freshwater and saltwater. Also in 1996, 94,000 nonresident hunters spent 704,000 days hunting in Alabama, for an average of 7.5 days per hunter. Of these hunters, 80 percent were big-game hunters, in pursuit of deer or wild turkey. Twenty-eight percent hunted small game, such as squirrels, rabbits, or quail, and 24 percent hunted migratory birds, such as doves, ducks, or geese.
Resident Sportsmen.  In 1996 there were 661,000 Alabama resident anglers. They spent a total of 14.5 million days fishing, for an average of 22 days per angler. In addition, Alabamians spent only five percent of their time fishing outside the state, one of the lowest rates in the country. Alabama hunters spent 6.48 million days hunting in 1996. With 253,000 licensed resident hunters, this is an average of 25.6 days per hunter.
Wildlife Watching.  Wildlife watching is also popular in Alabama. People spent $278.9 million in Alabama in 1996 pursuing their hobby of observing, photographing, or feeding wildlife. They maintain natural areas of special plantings for wildlife and they visit public parks and woodland habitats, lakes and streamsides, brush-covered areas and open fields. Some have specially purchased clothing and equipment, such as off-road vehicles, trail bakes, tents, and backpacking equipment.
Birds attract the attention of the largest number of people. Shorebirds, waterfowl, songbirds, and birds of prey are most popular among bird watchers. Land mammals, such as deer, or other wildlife, such as butterflies, snakes, and turtles, are of interest to other wildlife-watching participants.
Twelve percent of the American adult population enjoys wildlife watching, in equal numbers of men and women. The age group with the most interest are 35-to-44-year-olds, closely followed by 45-to-54-year-olds. People of all income levels enjoy wildlife-watching hobbies, but participation rates among races vary greatly. White individuals are much more likely than African Americans to be wildlife watchers.
With people's continuing interest in outdoor recreational activities, as well as a relatively strong economy, the high levels of expenditures in Alabama established in 1996 should continue. Alabama's long seasons, abundant public access to hunting and fishing opportunities, and moderate weather mean that wildlife-associated recreation will continue to have a positive impact on the state's economy.
Brett Nix
Graduate Research Assistant